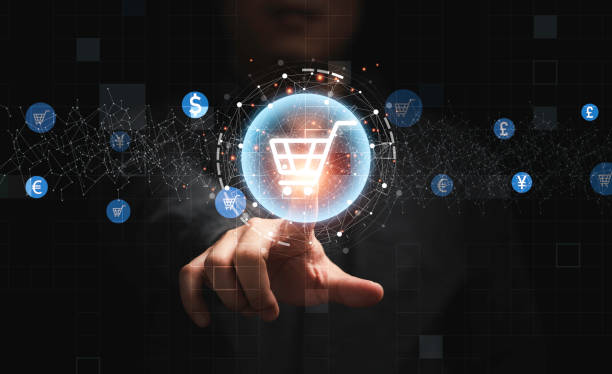 How Many Companies Buy Or Sell Data: What No One Is Talking About
How many companies buy or sell your data? This is a uncommon question many individuals and businesses ask about their privacy and the security of their personal information.
The truth is data buying and selling has become a booming industry- with many companies engaged in this practice. In this article, we will explore the topic of data buying and selling and provide you with a comprehensive overview of the industry.
What is Data Buying and Selling?
Data buying and selling is the practice of purchasing and selling personal information such as names, addresses, phone numbers, email addresses, and other data types. Companies in this practice use the data to create targeted marketing campaigns, personalize ads, and improve their products and services. However, data buying and selling have raised concerns about the privacy and security of personal information, and there have been instances of data breaches and identity theft.
According to recent studies, the data market is expected to grow to $274 billion by 2027. The increasing demand for data-driven insights and the rise of big data analytics drives this growth. Companies that engage in data buying and selling range from small startups to large corporations such as Google, Facebook, and Amazon. These companies collect data from various sources, such as social media platforms, search engines, and other online sources.
There are also companies specializing in data brokerage, which involves buying and selling data between companies. These companies act as intermediaries between data providers and data buyers, and they help ensure that the data being sold is accurate and up-to-date. Companies that engage in data buying and selling range from small startups to large corporations such as D&B, Creditsafe and Zoominfo. These companies aggregate data from various sources, such as Chamber of Commerces, National Statistics Offices and other public sources.
The use of data buying and selling is not limited to marketing and advertising. Many industries, such as healthcare, finance, and government, rely on data to improve their services and make informed decisions. For example, healthcare providers use patient data to develop personalized treatment plans and improve patient outcomes. Banks use data to detect fraud and identify potential risks. Governments use data to monitor public health and safety and make policy and resource allocation decisions.
How many companies are buying data?
Data markets are booming- especially since the pandemic, use of data for business intelligence is on the rise. Recent studies show that the Global Marketing Data Market will Reach $197.2 Billion by 2027.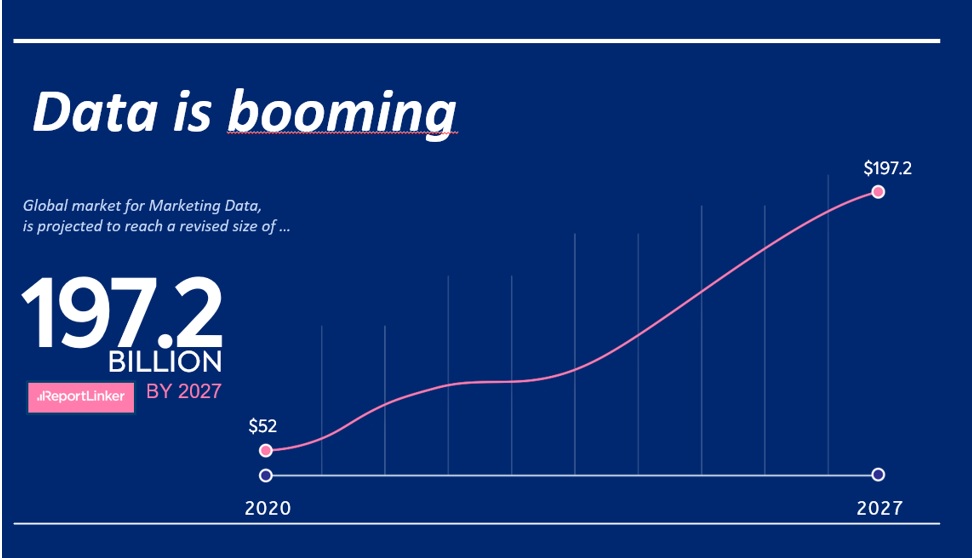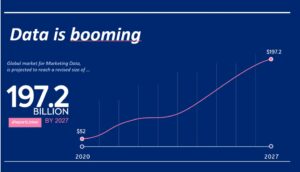 It is unknown how many companies buy data. But one thing is certain: You can market your products more effectively by buying data. Despite this, many companies are still unfamiliar with the concept of buying data. The murky waters of privacy and legislation get in the way. It's a pity since buying data is one of the most efficient methods of identifying opportunities.
How many companies are selling data?
Good quality data can be an interesting new source of revenue for companies. Data can be sold for a variety of purposes. Database marketing and non-commercial research are examples of user cases.
However, since new privacy laws restricted data sales, the number of companies selling their data has dramatically decreased. Today, most data comes from public sources like the Chambers of Commerce and National Statistics Offices. The number of companies that sell data worldwide is 3,000 of which 1,320 data companies are located in the European Union.
Buy Data from BoldData
Data buying and selling is a booming industry expected to grow in the coming years. Many companies, ranging from small startups to large corporations, engage in this practice. Data is used for various purposes, such as marketing, advertising, healthcare, finance, and government. While data has many benefits, it also raises concerns about privacy and security, and governments are taking action to protect consumers.
If you want legal, accurate, high-quality company data, you can buy from us at BoldData! Delivery can be expected within 24 hrs for a very affordable rate! Contact us to know more!
Contact us for free tailor-made advice and an independent quote. Please call +31(0)20 705 2360 or send an e-mail to info@bolddata.nl.