Create data driven opportunities with locally sourced databases. Worldwide.
Join 3000+ companies already using our international data to find new clients, enrich their database or even build new companies.
Worldwide reach, unbeatable local data
Privacy compliant: data you can trust
Delivery in 24h in Excel or API
3,000+ customers rate us 9,2 out of 10
Global market leader in custom data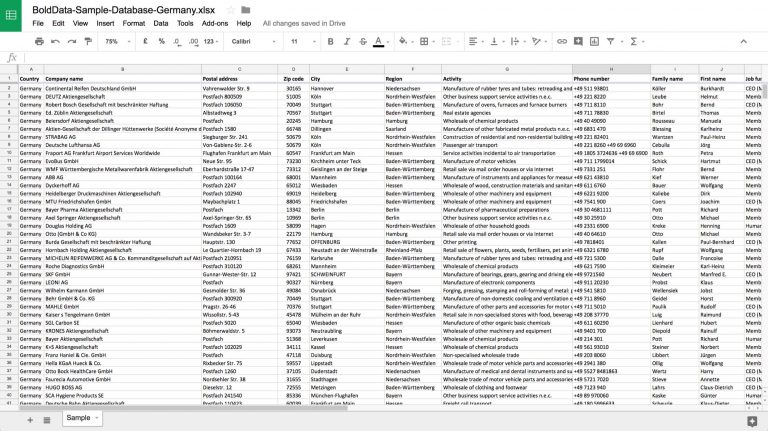 Need company data at scale?
Make data-driven decisions
High quality data is the foundation of your app, technology or CRM system. Our verified, accurate and trusted database combines worldwide reach, with unbeatable local expertise. Whether you want to find new clients, build applications or verify identity. We build a custom dataset that the world needs.
Our company data is foundational to 3,000+ companies. Our data solves all challenges.
CRM & Business Intelligence

341 million companies

Business Development

48 million e-mail addresses

Verification

1 billion+ residents and businesses

Historical Financial Data

5 years of historical data

Due Dilligence & KYB

40 milllion ownership datasets

Apps & Analytics

228 countries
You'll be in good company
Leon van Daalen, HEINEKEN:
"Besides a huge database of European hotels, restaurants and bars, BoldData makes sure that our sales campaigns comply with the local privacy laws in each country."
Jerome Pinneau, FINQUEST
"Quality data, fast and efficient service."
Annelieke Adriaanse, EUROFORUM
"Good data, which we have successfully used for our campaigns."
M.D. Helmut Huberti, World Arthrosis Organisation :
"Extremely reliable, high quality service, and very competitive prices. Excellent! The very best data firm we've ever worked with."
Stefania Guerra, DYSON:
"Positive feedbacks and response on the e-mail campaign data received from BoldData"