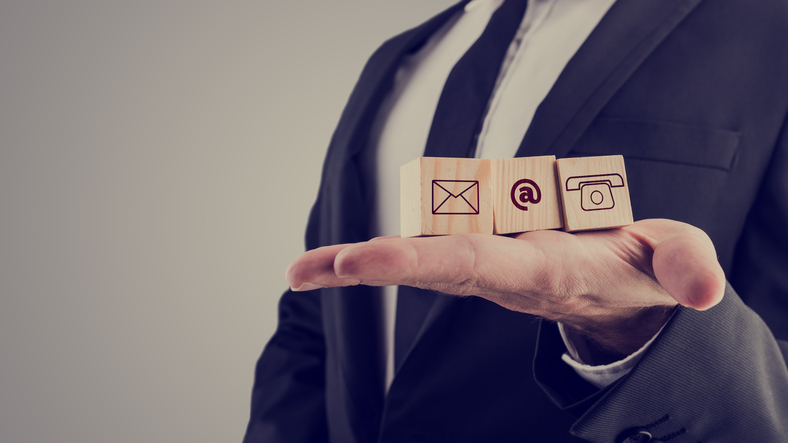 Decided to buy email lists? This is what you need to know in the GDPR era
Buying email lists is on a rise. After the pandemic companies couldn't visit their clients and couldn't attend trade show to find new clients. Marketeers turned back to good old email marketing to find new clients. And rightly so: it is cheap, fast and measurable. Many marketers, however, limit themselves to email campaigns to their current customers. A missed opportunity, because you can also buy email lists of your potential customers. There are thousands of email lists and email marketing lists for sale or rent. What type of email lists are available? What are the pros and cons? And how do you choose the right email lists? There's 3 main ways you can buy email lists:

1. Buy an email list in bulk
There are many providers of compiled database that offer business email lists. A compiled database is a email marketing list that is created trough various sources, such as the local trade registers, annual reports, market reports and the internet. A short search on Google shows that there are many providers. From local Chamber of Commerces to global actors such as Experian and Dunn & Bradstreet. Most of these vendors will offer email marketing lists as well. These are often generic (info@) email addresses. Good email list providers will also offer you direct emails.
Our tip: buy a complete dataset with direct email addresses and company names, telephone numbers, industry, number of employees, etc. Using multiple channels (email, phone, social media) will increase the response of your campaign.
Benefits of purchasing email lists with opt-in
You can broadcast/send the email campaign from your own system, so you have more data to work with
Many detailed selection criteria available, such as industry, turnover, branches, job titles etc.
You can also buy telephone numbers, so possibilities to do a multichannel campaign
Relatively cheap because you can use the email addresses more often
Disadvantages of purchasing email lists with opt-in
The quality varies enormously between different vendors. Bounce rates are between 5 and 10% with good quality email data suppliers.
You have to invest time in learning about the privacy laws in each country
Many data companies only sell general email addresses (info @, contact @, general @ etc.)
Many cheap email shipping systems (such as Mailchimp and Your Mailing List Provider) are not suitable for purchased email lists
Buy email list from BoldData
BoldData is the European market leader in providing custom made email lists. Our data experts take the time to understand your business, target group and campaign. Based on these insights we create a highly targeted lists based on more than 3000 criteria. From country and number of employees to industry type and job title. From Schools to personal email lists of HR managers and CEO's.
With unbeatable locally sourced data, skilled data experts and smart technology, we help tech start-ups, multinationals and non-profits to unlock the power of international data. From finding new clients, making analyses, enriching databases or even building new companies. Ask us a free sample or give us a call on +31 (0) 20 705 2360.
2. Buy email list with opt-in
Do you want to e-mail consumers? Then you need consent before you are allowed to use their email addresses. A so-called opt-in. Chances are you are not in possession of this consent. No problem, in Europe and USA there's thousands of email list available from companies (publishers) that rent out their email data for marketing purposes. These e-mail lists with opt-in must are always sent/broadcasted by the owner of the database (publisher). So in principle you rent the file for a one-time mailing. After the broadcast has been sent you will receive a report of the number of emails sent, opens, clicks and other statistics.
Benefits of purchasing email lists with opt-in
Good for branding: you lift on the strength of the brand
Accurate email addresses: bounce percentage always below 5%
Everything according the local privacy legislations and GDPR: peace of mind
Disadvantages of purchasing email lists with opt-in
You do not receive any data yourself, because the emailing is sent by the owner of the file
Accurate email addresses: bounce percentage always below 5%
No possibility to do multichannel campaigns. For example, phone numbers are often not available
Buy email lists from BoldData with peace of mind
BoldData's secret recipy is that all the information in our email lists are built through 10.000+ local market information data sources. These local data sources arrange the day-to-day updating and quality enhancement/checking of the data. The updates are sent to BoldData B2B Email List on a daily basis. So the dataquality of our B2B Email List is extremely high. BoldData has access to more than 10,000 email lists with opt-in email addresses worldwide.Privacy and security have been important concerns of BoldData for years. That's why BoldData is being audited yearly to carry the DDMA Privacy Guarantee.
3. Collect email address lists
Are you looking for email address lists of a very specific target group? Or are you looking for email lists of people who have already indicated that they are interested in your product or service? Chances are that these specific email lists are not for sale or for rent. Alternatively, you can collect email lists through an external source: better known as lead generation. There are various possibilities for generating qualitative email lists. From a focused question in an online survey to setting up an affiliate program or offering a whitepaper.
Benefits of collecting email address lists
Perfect quality: you only pay for correct email/lead
Transparent costs: you pay a fixed amount per email address
High conversion: these people are already interested in your product
You immediately have an opt-in. So no hassle with the privacy legislation
Disadvantages of collecting email address lists
The costs can be high: prices vary from a few euros to sometimes 500 euros per lead
It is possible that the lead is not properly qualified. E.g. persons who complete an online survey without actually fitting your target audience
The number of leads can be low
Lead generation is time consuming, that's why BoldData can do all the hard work for you. We have the experience and expertise to design a top notch email marketing campaign: from selecting your ideal target audience to designing and sending the campaign. All you have to worry about is closing the deal. And the best part? You only pay for the results.
Why should you buy e-mail lists from BoldData?
We have more than 10 years of experience in guiding email marketing campaigns. And therefore we know exactly what works and what does not. Want to know more? Call +31 (0) 20 705 2360 or send an email to info@bolddata.nl. We are ready to answer your questions! Or view the frequently asked questions about buying email addresses
The price depends on the number of e-mail addresses and the address details needed. The minimum order amount is € 425,-. This equals approximately 1.000 highly verified emails.  Tell us your target group and we send you a free quote. Call +31(0)20 705 2360 or send an e-mail to info@bolddata.nl.
Tell us your target group via the request form or by phone. Subsequently we send you a free quote, including the number or addresses, within one day.
Ready to order? Simply confirm the proposal. And we'll deliver your e-mail list within 24 hours (in Excel).
We have over 300 data fields available in our mailings lists. Below are
Buy email list – with postal addresses 320.813.222
Buy email list – with websites 111.089.119
Buy email list – with generic emails 211.089.119
Buy email list – with direct emails 22.201.889
Buy email list – with phone numbers 229.480.447
Buy email list – with mobile phone numbers 1.820.707
Buy email list – with fax number 20.192.180
Buy email list – with turn over 11.108.276
Buy email list – with employee sizes 310.108.276
Buy email list – with import/export information 1.408.276
Need other data? Contact us!
Our data is verified on a daily basis. So the dataquality is extremely high. With e-mail addresses keep in mind a bouncerate of 5%.  The reason for this is that in the world today, people are constantly changing jobs and/or positions, and companies may move and change their telephone numbers, names, websites, or email addresses. Therefore it is impossible to reach 100% accuracy with e-mail addresses.
After your confirmation we deliver the e-mail addresses (in Excel) within 24 hours by e-mail.
For tailor-made advice or more information about delivery times, please contact us via +31 (0) 20 705 2360 or info@bolddata.nl. We are happy to help you!