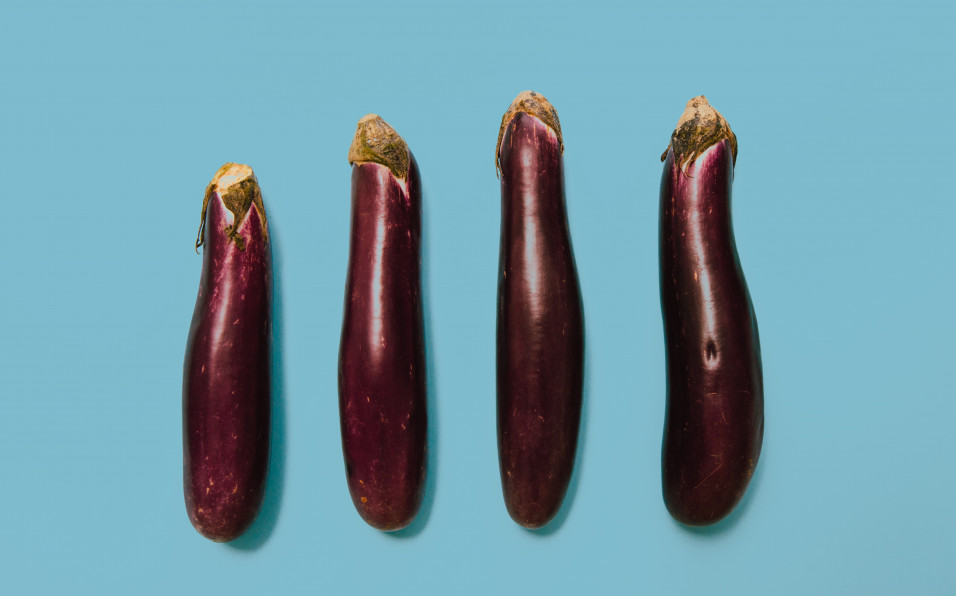 We all know price is important. Also in the data industry. But we also know that you get what you pay for. You put a lot of effort in your direct marketing campaign, don't jeopardize it by using a bad or outdated mailing list. BoldData delivers premium direct marketing data. Data that we keep in top shape. Our ever-growing database is continually verified and updated for accuracy. In short: better data for better results.
What about the price?
Ok, our data is top notch. But what about the price? We like to keep it simple. No hidden costs or contracts. You pay an amount per contact* (complete dataset) and a fixed amount per mailing list. For this amount we deliver all the information available: from postal address to phone number and direct email addresses of CEO's, HR managers etc. Meaning you don't pay extra if you need a phone number or name. We also work with volume discount: the more you buy, the less you pay.
* with a contact dataset you get access to all the following information for a fixed price: company name and postal address, phone number, industry, number of employees, personal e-mail address and/or general e-mail address, name of contact person (if available), function, mobile phone number (if available), website and registration number
PS: we won't be surprised to see that we'll also have the most competitive pricing for consumer data. Check our Dutch consumer pricelist here. Other countries we deliver consumer data in bulk only. Take a look at our bulk pricelist here. Please click on "Worldwide B2C Data (Bulk)".
Cheaper than Chamber of Commerce
Our prices are competitive. We're even cheaper than the Chamber of Commerce. Even for low volumes. For example: you want to buy 10.000 addresses including phone numbers, contact name, industry and number of employees. At BoldData you pay € 0,12 per address + € 175 fixed costs = € 1.375. At the Chamber of Commerce you pay € 0,19 per address and € 250 fixed costs = € 2.150. A difference of 25%. Have a look at the chamber of commerce pricelist here: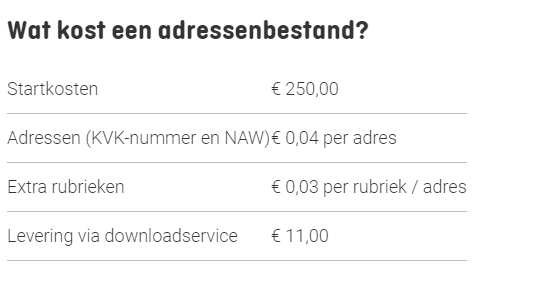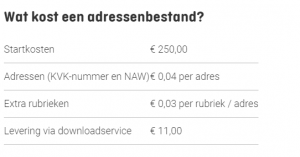 That's right! In most cases BoldData is more competitive than the Chamber of Commerce. And you'll get more and better data aswell. Are you looking for just straight forward company name and postal addresses? In that case it's more cost efficient to buy from the Chamber of Commerce up to 200,000 addresses.
Cheapest mailing lists in the Netherlands for high volumes
Because we keep it simple we're cheaper than the Chamber of Commerce. And also cheaper than colleagues like Graydon and DR3DATA. For orders of more than 30.000 addresses we're even cheaper than data discounter Ad Hoc Data. They charge € 0,10 per address for all orders. While BoldData charges € 0,090 per address for orders over 30.000. And from 100.000 addresses, we're even 50% cheaper. On top of that BoldData is the only data supplier that is able to deliver direct email addresses of CEO, IT managers, HR managers worldwide.
Better international prices
With our international mailing lists we also work with a simple pricing structure, without contracts or hidden costs. We work exclusively with local data sources, like Handelsregister.de in Germany and www.insee.fr/en/accueil in France. In most countries our pricing is competitive because we wholesale data on a large scale from these local chamber of commerces.
But what if you can get a better price for international data at a local chamber of commerce? Please keep in mind that this will cost you a lot of time translating the data and creating your mailing list. At BoldData you work with an international direct marketing expert who takes the time to understand your campaign. We know our way around the best  data in 100+ countries. Moreover we enrich this local data via our fancy tools and we have partnerships with thousands of publishers. Meaning we can get access to extra data, like personal email addresses, mobile phones, contact persons and revenue.
Datalicenses
Do you have a big target group of more than a million addresses? Or do you need data on a large scale fort the development of a website or app? Than a data license is the way to go. With a data license your investment is lower and you receive monthly updates of your target group: from new companies to address changes. The only difference with buying a mailing list is that it's for a contract of 1 year. For example: the costs for a license of the complete Dutch database with 3 million company addreses and 12 updates per year is € 15.000,- per year. The costs for a license differ per volume and country. Learn more here or call one of our data experts: 0031(0)20-705 2360.
Save money and time with custom made mailing lists
The biggest difference with other mailing list suppliers is that you get free consultation from our data experts. Our data experts take the time to get to know your organization, target group and campaign. Based on these insights, we create a tailor-made mailing list, compiled on the basis of more than 1500 criteria: from country and number of employees to sector and function. Satisfied? Then we deliver the mailing list within 24 hours in Excel.
Other datasuppliers work with online tooling. These tooling are complex and therefore time-consuming to learn (and often you are stuck with an annual subscription). Errors in your address file are made easily. The results be expensive. Think of lost call center hours, returns with post mailings or even wasted campaigns because the target group was completely wrong.
Delivering data is a profession. Whoever you want to reach, our data experts select your target group with extreme precision and with the most competitive prices. Do you want to know more? Contact us on +31 (0) 20 705 2360 or info@bolddata.nl. We are ready to answer your questions!