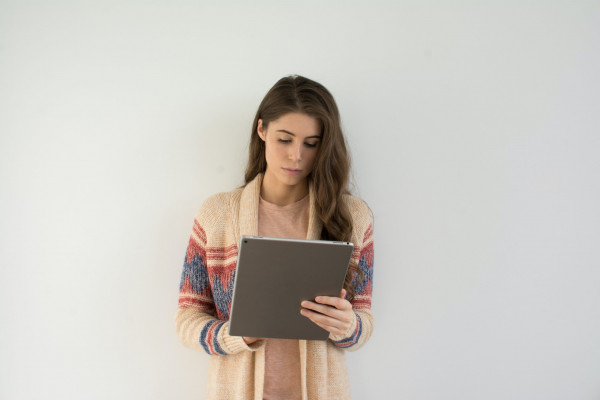 Day of Women and Girls in Science: female CEO's in science and tech industries
Sunday is International Day of Women and Girls in Science. The day – declared by the UN – recognizes the critical role women play in science and technology. Time to study the numbers! How many women made it to the top spot in science and tech industries? BoldData presents the number of women that hold CEO positions at ICT, construction and manufacturing companies.
Female CEO's a rarity in ICT
Let's start with ICT. According to The United Nations female students' enrolment is particularly low in ICT (3%). This number is reflected in the number of female CEO's in the ICT industry. Only 2.9% rank the highest executive role at ICT companies around the world.
All-time low in oil industry
What about the manufacturing industry? 2.7% of manufacturing companies worldwide are led by women. When we take an in-depth look it appears that female CEO's can mainly be found in manufacturing industries such as Apparel (7,2% female CEO's) and Jewelry (6,75%). However, female CEO's are still a rarity in heavy manufacturing industry: only 1,3%. Zooming into the heavy manufacturing industry, we see an all-time low in the Oil and Gas industry: only 0,005% of oil and gas companies are led by women.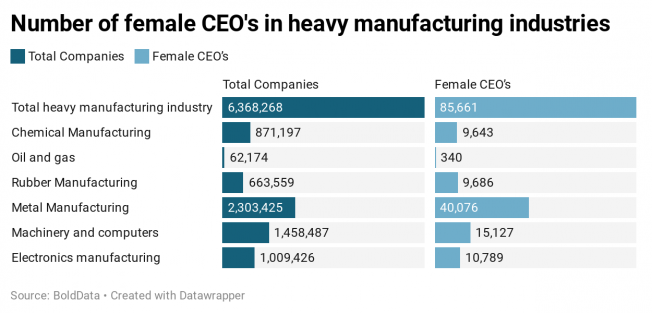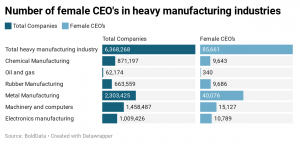 Glass ceiling construction industry tough to crack
The glass ceiling in the construction industry is also a tough one to crack: with just 1,4% female CEO's worldwide. It might not come as a surprise that heavy construction companies (such as road construction and civil engineering) scores lowest with 1% female CEO's. The number of female decision makers at General contractors and installation companies ranks slightly higher with 1,4%.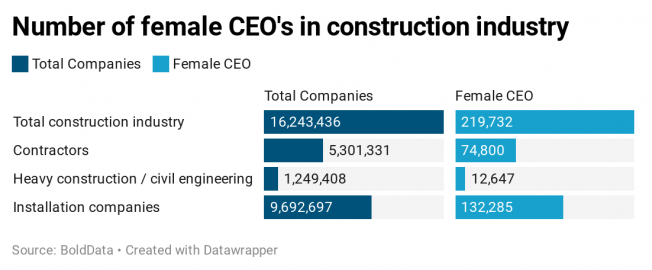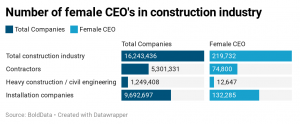 #WomenInScience !
About BoldData
We are global data experts with a highly accurate database of 287+ million companies in 4.000+ industries worldwide. With our data have helped 2,000+ companies with analytics, research and CRM. Our data is being used by renowned research companies such as Statista and EBSCO.
Report
When publishing our content we appreciate if you could include a link to our blog or source page.
This report is based on our manufacturing, construction and technology database. All our data is continuously updated by various sources such as chamber of commerces, Dunn & Bradstreet, industry organisations, local commercial registers, phone books (yellow pages), local public Institutions, open sources, publishers and commercial partnerships.
If you need more information, please get in touch with Daan Wolff via +3120-705-2360 or d.wolff@bolddata.nl